Latest brochures, reports, white papers, videos and downloads

Advanced Display Systems - for commerce, industry, science & medical

We can deliver the display solution that you need, however complex or simple, quickly and affordably.
Fully backed by our team of expert engineers, we have the resources to deliver the products and services that will fulfill your needs today and in future.
New: Sentel's Flight TVTM channel designed for hotels and businesses that require a dedicated live flight schedule channel for their local airport, mixed with own branding, regional and local content.
Just plug in the ePC channel controller, and set-up your branded channel on the SigNet cloud, no stress, and with all the facilities you will need. Or use our installaton and set-up service, available globally.

Sentel Advance offers specialised services, such as 24/7 reliability testing and electronics & software development, focusing on embedded products for remote data 2D & 3D visualization, including complex information processing and stereo vision systems. In addition to the development and manufacture of a range of embedded products, Sentel can supply technical support and custom development for a wide-range of specialized applications, for industry, medicine and science, to retail, hotel and other sectors.

New 4K multi-monitor ePC embedded player now available with Ryzen APU
The embedded ePC991 with integrated Ryzen APU is ideal for 24/7 applications, such as retail, industrial and public transport. It offer incredible performance at very low-power with high-reliability and a long-life service life.

Download Digital Signage reseller offer
FREE FIDS & DIGITAL SIGNAGE SOFTWARE : ViewPoint-2D+ is available completely free of charge (download). Ideal for advanced information displays and digital signage, MIDAS ViewPoint-2D+ has been installed in the majority of UK airports, points of sale, and many other locations worldwide. YOUTUBE VIDEO OF VIEWPOINT FIDS/SIGNAGE IN ACTION
SPECIAL OFFERS ON FIDS AND DIGITAL SIGNAGE EMBEDDED PCS
Installed in all BAA airports, ViewPoint 2D+ FIDS software is available free-of-charge to all users, with full technical support available. Please contact us to obtain download instructions.

ViewPoint 3D brochure - NEW Complete overview of ViewPoint/Viva3D software capabilities
ePC systems leaflet - NEW Overview of next generation embedded computers with 3D GPUs
Advanced 3D FIDS for Airports & Digital Signage airport PDF
Viva3D Live-Data 3D Display is available on Windows & Linux, and enables the rapid creation and updating of real-time data-controlled 2D and 3D information displays, as used in major airports, and many other areas. Create the most advanced 2D and 3D displays with perfect results using the power of the modern GPU. Combined with the latest slimline ePC or the PowerCore ePC, a quad-HD 3D-graphics computer, and consuming from 4 - 80 watts of power, a complete display network can be rapidly deployed. An advanced 3D graphics APU provides stunning animations, full 3D, and Quad-HD video playback on the latest screens, including glasses-free 3D. Visit YouTube to see ViewPoint-3D samples.
Viva3D gives you the ability to create from simple to highly complex presentations, for any application, but especially for data display using the latest high definition LCD screens. In addition, SAS develops software applications produced in Asm, C++ and Java.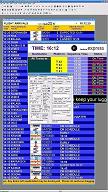 Click images to enlarge.
See ViewPoint HD in action:- YouTube
Rapid Innovation - smallest, most powerful, reliable and low-energy ePC
The new ePC systems are perfect for all types of digital signage, monitoring, and visualization applications, powerful and low-energy (12W - 90W typ.) ideal to run a seamless FHD video playlists, or complex FHD screens at airports (FIDS) with animated objects and mixed content using advanced 3D-graphics. The ePC, with Embedded Linux* or Windows, and 64/128 GB solid-state hard-drive, 4GB RAM and FHD video support, makes the ePC the perfect choice for all digital signage applications requiring high quality, 24x7 operation, and comprehensive facilities. With preinstalled ViewPoint-3D digital signage software, the ePC provides a complete and ready-to-go solution designed for 24x7 operation.
With 3 decades experience in electronic display system technology, you can be sure that the ePC with Viva3D software is ideal for displaying simple or complex information at airports (FIDS), or promotional information on digital signage screens for retailers, banks or hotels.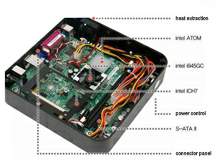 TFT Innovation - The ePC has been designed to fit behind flat TFT screens from 17" and up, as can be seen in the image. Forced airflow ensures adecuate cooling for 24x7 full-time operation.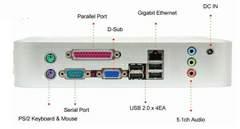 Energy Innovation - The ePC runs cool, consumming just 12 watts standard for Digital Signage multimedia applications. Low power means long-life and low electric bills. The aluminium case with forced-air cooling guarantees 24x7 operation.
Low-power 12V DC or 110/220 VAC operation makes the ePC ideal for a wide range of applications, from fixed to mobile digital signage.
ePC-mini Leaflet

Sentel Advance manufactures Advanced Information display systems, flight displays, digital signage for a wide-range of markets, from retail advertising systems to passenger information displays, to hotel television systems, to promotional screens in pharmacies, to industrial and scientific information display systems. Whatever your information or TV display requirement, contact Sentel Advance to discover the best options available.

Linux or Windows? We support both Linux and Windows, allowing users to benefit from the configuration that best suits their needs.

Contact us to order or for further information:- info@sentel-advance.com