ViewPoint™ 3D is a powerful, flexible and ready-to-go full 3D information and multimedia display presentation, creation, scheduling and delivery software package operating on the latest PC-based operating systems. Developed in-house in C++ and ASM since 1996, the system is fast, efficient and reliable, and can be rapidly extended to included new features as needed. (Leaflet A4)
If you need to display information on screens in public or private areas, or deliver your own custom television channels, in one or many locations, Midas ViewPoint provides a complete and simple to install solution, including automated scheduling of content playback and FTP file distribution for LAN or Internet-based networks. More than this, ViewPoint controls the entire PC, including the operating system, with status reports via email and SMS, and can generate extremely complicated screens, or screens with mixed 2D and 3D content, including merged presentations from Flash to PowerPoint, with RSS feeds, ticker lines, scrolling regions, and real-time database filtering and links.
Watch a video of ViewPoint in action:- 2mb, 9mb or 90mb
ViewPoint supports real-time audio-visual media and information display, retrieving your data from any source you want, such as local files, ftp web sites and Oracle™, SQL Server and Access databases. Midas' easy-to-use visual display editor allows screens to be created in minutes, with content linked directly to local files, databases or the latest web content, or receive data via your network or another applications in the most efficient manner.
In addition to an extensive range of information display, pre-processing, av-media playback and scheduling facilities, Midas Viewpoint™ provides comprehensive support for networked audio-visual display systems using an extensive range of multimedia presentation services.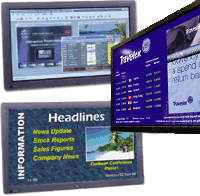 MVP supports a wide range of display devices, including the latest wide-screen monitors.